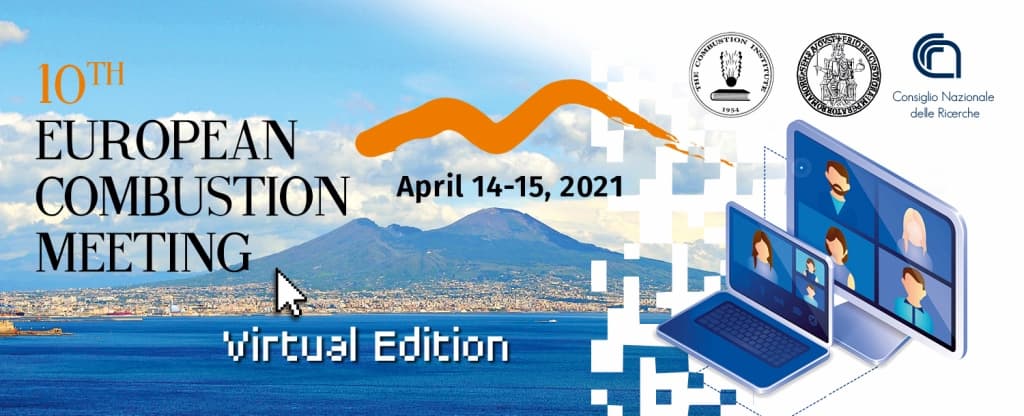 The European Combustion Meeting is an event that takes place every two years. Its objective is to bring together researchers, scientists, engineers, and students to exchange and share their experiences, new ideas, and research results about all aspects of combustion science and technology, with reaction kinetics, laminar and turbulent flames, and gas turbine combustion among them, besides others. The event provides the opportunity for academic and industrial combustion experts to meet and discuss on all fundamental and applied aspects of combustion, as well as of neighbouring fields.
Due to the pandemic, this year´s edition of the event, the 10th European Combustion Meeting, took place virtually on 14-15 April 2021 despite originally being scheduled to take place at Naples, Italy. ESTiMatE researchers from various partner institutions presented their posters to showcase their work within the project in order to share their results with colleagues from all over the world.
Astrid Ramirez (USUTT) presented "Reaction model development and optimization for 1,3,5-trimethylbenzene – an important aromatic for kerosene surrogates". This work was given one of the eight best poster awards at the event. You may view the poster here.
Eduardo Javier Perez Sanchez (BSC) presented "Development of the Conditional Moment Closure with a multi-code approach in the frame of Large Eddy Simulations". You may view the poster here.
Federica Ferraro (TUD) presented "Large eddy simulation of the Delft Adelaide Flame III using a quadrature-based method of moments". You may view the poster here.
Abhijit Kalbhor (TU/e) presented "Effects of preferential diffusion on soot modeling with the sectional method and FGM tabulated chemistry". You may view the poster here.